As we study current events and some continue to vigorously deny that humans are responsible for our changing climate, let's consider predictions and whether they are coming true. Climate change was discussed in the scientific literature as far back as the 1960's, gained more traction in the late 80's and 90's and here we sit today in the end of 2017- everyone knows the words "climate change" "global warming" but do they acknowledge it? Do they live differently? What will move us out of apathy and into action? I think seeing is believing, so let's look at what climate change looks like...
Polar Bear Starving to Death in Iceless Arctic
Polar bears have long been forecast as some of climate changes first victims as they live at the front lines of the warming Arctic. Unable to hunt on pack ice for their primary prey- seals, and stressed by temperatures too high for their ice age evolved physiology, polar bears are doomed.
Next we turn to California. Santa Ana winds are not new to the west coast, but the timing and ferocity of these winds, coupled with the intense drought of the past decade has left our largest state a tinder box. There has been little concern for California at the national level and little preparation at for the impending cost of these disasters, but we will all pay for it, as homeowner's insurance premiums have nowhere to go but up.
California Wind Fire Danger Unprecedented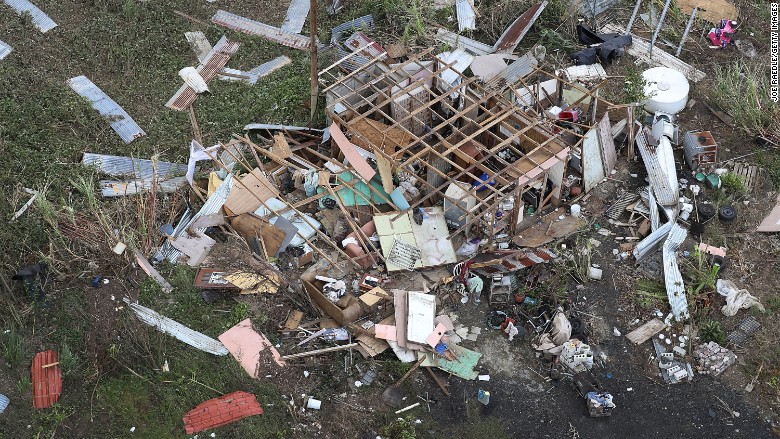 As we travel around the globe in this study, we can visit now long suffering Puerto Rico and the Caribbean islands, where the pace of recovery after Hurricanes Maria and Irma have left many thousands still without power, access to clean water or adequate shelter.
Devastating Damage in Caribbean following Hurricane Season of 2017
While none of these events has been
caused
by climate change in toto, they have
ALL
been caused by climate change in some major way. Those who would argue that scientists have overblown their predictions, would now be proven wrong, as the latest analysis suggests that the models that predicted the most severe impacts have been the most accurate thus far.
Greater future global warming inferred from Earth's recent energy budget.
No real scientist disagrees with any of these basic findings, none of them. Carbon dioxide and other greenhouse gases put into the air through combustion by humans from mined deposits of fossil fuel from the ground is the reason that the air is warming and cascading into all of these events. Carbon removed from geologic sequestration and liberated into the atmosphere is responsible for global warming. No argument there at all.
In light of all of this information and concrete evidence, what can we do? What can I
do? What can you do? This is where we have to focus our attentions, it is the responsibility of each of us to make change. An easy place to start is with food waste- plans meals, buy carefully, buy local, buy seasonal, don't overbuy and throw away! Another place is to adjust your thermostat! Pull out that cute sweater and ditch the t-shirt and shorts on cool days. Your heating and cooling budget is a huge drag on the carbon budget. Reduce consumerism! For Christmas spend time with loved ones, not spend time shopping for loved ones! Have a cookie baking party, have a family and friend game night, go caroling, be joyous, give love and good memories, not cheap junk imported from sweatshops around the world. Eat one more vegetable each day, try a vegetarian meal- you'll be healthier and so will our Earth. Every day try one little act of resistance to make a difference for that polar bear, those animals in California and those Caribbean coral reefs. We don't have much choice.